Hi everyone,
I hope you and your families are continuing to stay safe during the pandemic.
Over the past year, you've heard me talk a lot about testing an approach called antisense oligonucleotide (ASO) gene therapy in a little girl with   A-T. She has continued to receive regular injections, and we're grateful that we haven't seen any side effects. What's been desperately needed, however, as with any potential treatment for a disease in which a clinical effect may take years to confirm, is a "biomarker" that would tell us more quickly whether a therapy is providing a benefit.
To run clinical trials more effectively, we've been eager to identify some sort of measurable biomarker that correlates with the brain cell death that A-T kids suffer — perhaps some protein that is elevated or reduced in kids with A-T compared to healthy kids. If we could then track the level of that biomarker in A-T kids as we tested potential therapies, it might allow us to see the positive effects of a treatment much sooner and without the complications of placebo effects. It might also reduce the length and cost of clinical trials.
Recently, we learned about a protein called "neurofilament light chain" (NfL) that's produced at high levels in axons – the long, threadlike part of neurons along which impulses are conducted from the cell body to other cells in our brain. When brain cells die and are broken up by our bodies, this protein finds its way into a person's spinal fluid and blood. Researchers working on a variety of other neurological disorders, including inflammatory, neurodegenerative, traumatic and cerebrovascular diseases, have found that the level of this NfL protein increases in both spinal fluid and blood and does so proportionally to the degree of axonal damage occurring.
And so, to explore whether the NfL protein is elevated in A-T, we collected blood samples from 17 children with A-T between the ages of six and twelve, as well as 17 age-matched, healthy children, and then had them analyzed for NfL levels. We're so grateful to the families who quickly responded to our requests for help with this project.
The following charts show the amazing results we just obtained. Take a look. You don't need to be a scientist to see that all of the A-T children (both girls and boys) had much higher levels of the NfL protein in their blood than any of the healthy kids!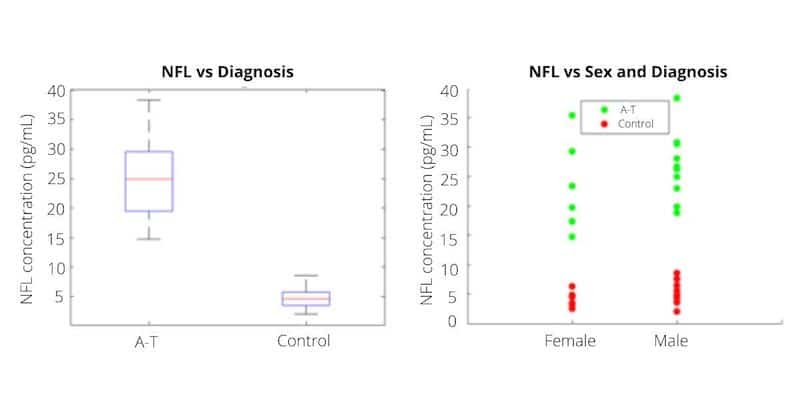 This discovery could possibly be a huge breakthrough for us. It could mean that going forward, as we test potential treatments in A-T kids, we may be able to quickly see if their brain cell death is being reduced by the treatment – long before we can see if their loss of balance or muscle control has been slowed or stopped.
With these promising data in hand, we're now planning to collect more samples and repeat the experiments in the same 17 A-T children to see how variable or consistent the results are with this test. We're also planning to measure NfL levels in some even younger children with A-T as well as some older A-T patients to see what happens across a broader age range.
And even now, based on this initial discovery, we're going to monitor NfL levels on a regular basis in our first patient who is currently receiving the ASO treatment. But beyond her trial, having this marker may enable us to more quickly and efficiently conduct many other clinical trials in the near future.
If this blood test for NfL levels proves to correlate well with the neurodegeneration faced by our A-T kids, it could possibly turn out to be the biggest discovery made about A-T since the disease-causing gene was identified. With all of the challenges 2020 has brought to us, I wanted to share what I think is really hopeful news.
All the best,
Brad Margus