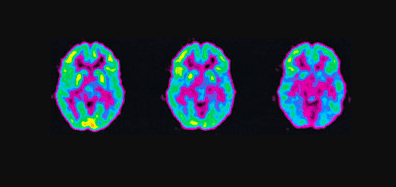 With help from scientists who specialize in brain imaging, the A-T Children's Project is seeking ways to treat the abnormal brain circuitry in ataxia-telangiectasia (A-T). For the first time, a comprehensive PET and fMRI study of the brains of adults with A-T has begun.
PET stands for Positron Emission Tomography, and these scans give three dimensional pictures of brain activity. fMRI stands for Functional Magnetic Resonance Imaging, a type of specialized MRI scan that examines brain function by measuring changes in blood oxygen or blood flow related to the neural activity in the brain.
Nora Volkow, MD, Director of the National Institute on Drug Abuse at the National Institutes of Health(NIH), is the lead investigator for this new study being held at Brookhaven National Laboratory in Long Island, New York. Ten patients with A-T, 10 healthy siblings, and 10 "control" individuals without A-T – all 18 years of age or older – will be studied.
By learning more about the activity of the brains in people with A-T, researchers hope to discover possible treatments for this rare disorder.