CANADA – Virtual 5K Race Series Medal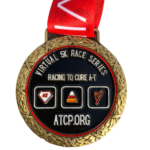 Thank you for joining our Virtual 5K Race Series! YOU helped make this virtual event a success.
If you'd like to purchase an exclusive Virtual 5K Race Series medal, please fill out the form below by November 29th. Your medal will be shipped to you within the next two weeks. The cost is $25 per medal including shipping to US and Canada. Please note, purchases made on this page will be charged in Canadian dollars.