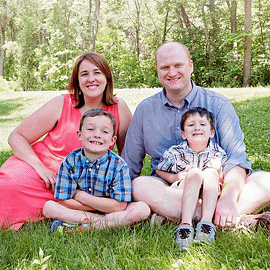 When Jim and I noticed that our youngest son Jack was off-balance, we took him to doctor to find out what was wrong. We didn't expect the road would lead us to a diagnosis we had never heard before: ataxia-telangiectasia (A-T).
Often misdiagnosed as cerebral palsy because of similar early indicators, children with A-T are often difficult to identify. The similarity between the two ends when symptoms worsen rather than stay stagnant or improve. A-T is a rare genetic disease that progressively affects coordination, predisposes patients to fatal cancers, and severely compromises the immune system. Children with A-T usually lose the ability to walk before the age of 10.
While researching the disease, we discovered the A-T Children's Project. This nonprofit organization supports and coordinates biomedical research projects, scientific conferences, and the A-T Clinical Center at Johns Hopkins Hospital – all aimed at finding life-improving therapies and eventually a cure for A-T.
Please help us find life-improving therapies and a cure for A-T (ataxia-telangiectasia) by making a tax deductible donation below.
Thank You,
Jim and Chelsey Mowrer