When:
2021-10-04T00:00:00-04:00
2021-10-05T00:00:00-04:00
Contact:
Darryl and Danielle Payne
631.834.1432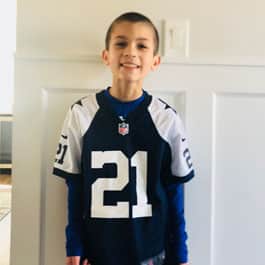 In honor of Brandon
---
a note from the payne family…
It is with a heavy heart that we have to cancel our B Brave Golf Outing due to Covid-19. Our golf outing was scheduled for October 5th, 2020, Brandon's 9th Birthday, and both Brandon and Cameron were so excited to attend this year.
Over the past two years, we have raised over $250,000 in donations to ATCP on behalf of B Brave. This is all THANKS to supporters like you!  Your generosity has been a driving factor in B Brave's success to help cure Ataxia Telangiectasia (AT).
As many of you know, AT is a degenerative disease that attacks the body leading to high rates of childhood cancer and causes AT kids to be wheelchair bound around ages 8-10. Brandon's 8th year had many challenges and joys.  He became dependent on a push chair for long trips and now uses a Rifton Chair with wheels in school.  Everyone calls it his "King" chair.  He continued to participate in the Erydel clinical trial.   Covid-19 has presented a lot of challenges and concerns when traveling. We fly to Houston once a month and are usually there about 24 hours before heading back home.  Brandon especially misses his direct flight on Delta.
Erydel proved very important around April since it had been three months since his last treatment in January.  Brandon felt his body changing for the worse and was yearning to go back to Houston for "the good stuff to help his wobble".  This kid is a champ.  No tears and no complaining when a massive needle removes 50cc of blood each month.  He is BRAVE and STRONG and rewarded handsomely with V BUCKS (fortnite money).
Brandon's 8th year was happy in many ways as well.  He continued to build awesome relationships with friends and family.   He liked homeschooling, but missed being able to see his friends and teachers at school.  He also got another puppy, which he named Rocky after one of his favorite movies.
This disease is starting to rob him of many joys that boys his age are able to experience.  Bike riding, sports and running around are becoming more challenging.  We substitute a bike for a quad, swimming for playing sports and roblox instead of play dates.  And while sometimes it gets him down, he remains positive and loves having fun with his brother and puppies.
Please consider making a donation to ATCP on behalf of B Brave to continue our fight to find a cure for this awful disease.  We are so close to finding a cure, but we need your donation dollars more than ever as ATCP, like many other charities, is suffering in this difficult time.
Once again THANK YOU for your support in our battle against Ataxia Telangiectasia.
---
In honor of Brandon