When:
April 5, 2023 @ 8:00 am – April 8, 2023 @ 5:00 pm
2023-04-05T08:00:00-04:00
2023-04-08T17:00:00-04:00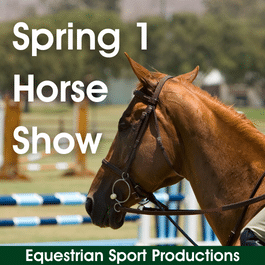 Equestrian Sport Productions
Spring 1 Horse Show
We are back this year for another Equestrian Sport Productions fundraiser to benefit the nonprofit A-T Children's Project (A-TCP) and we are so excited to invite you to join us! The A-TCP is working vigorously to find life-improving therapies and a cure for ataxia-telangiectasia (A-T).
A-T is a genetic disease that causes loss of muscle control and balance, lung disease and immune system problems in children and young adults, shortening their lives. Children with A-T are usually confined to wheelchairs by the age of 10 and are predisposed to fatal cancers.
Because A-T is a multi-system disease, scientists believe that A-T research will help more prevalent diseases such as Alzheimer's, Parkinson's, AIDS, and cancer. The A-TCP will utilize the funds we raise to accelerate first-rate, international scientific research aimed at finding a cure and improving the lives of children with A-T.
The A-TCP will be hosting the Equestrian Sport Productions Spring 1 Horse Show in Wellington, FL on Wednesday, April 5 – Saturday, April 8. The Grand Prix of the event will take place on Saturday afternoon. 100% of all money raised from the event will go to the A-TCP to help find a cure for A-T!
We are currently accepting participant registrations and donations for this event, and we hope to see you there! For more information about the event, please visit us at wellingtoninternational.com. If you are interested in joining us or have any questions, please contact Dave at dburton@wellington.com.
Donate online OR mail a check to A-T Children's Project, 6810 N. State Road 7, Suite #125 Coconut Creek, FL 33073. Please include a note that it is for "Equestrian Sport Productions" with your check.