About Online Fundraising
Here is your chance to honor someone living with A-T, celebrate special occasions, or do something you love to benefit the A-T Children's Project. You can do just about anything to raise funds to find a cure for A-T. And we're here to help you every step of the way. We know you'll reach and surpass your fundraising goal!
Take a look at some of our online fundraising options, and decide which is the best fit for you. As always, never hesitate to contact us if you have any questions!
---
GIVING CIRCLE
Share this link to our Giving Circle to encourage friends and family to make a monthly donation to the A-T Children's Project. All monthly donors are acknowledged on our donor roll along with the child with A-T in whose honor they are donating.
Specific research to find treatments and a cure for A-T is not funded by the government. This disease is too rare. The only reason we have come so far – and have such hope for the future – is because of the efforts of friends and families just like you. This grassroots effort can make it happen!
---
#BeTHEHOPE Online campaign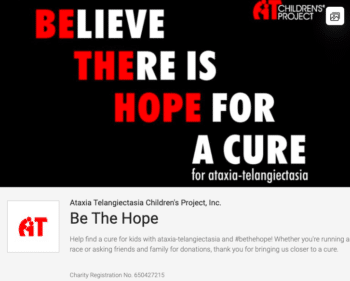 Do you believe there is hope for a cure? Help find a cure for kids with ataxia-telangiectasia and #BeTheHope!
Whether you're running a race or asking friends and family for donations, you've come to the right place. As a supporter of the A-T Children's Project, you can raise funds to support and coordinate biomedical research projects, scientific conferences and a clinical center aimed at finding a cure for ataxia-telangiectasia (A-T), a rare genetic disease that attacks children, causing progressive loss of muscle control, immune system problems, and a high rate of cancer. By joining us and raising funds, you can #BeTheHope for every child battling A-T!
Looking for your Everyday Hero page? Unfortunately, the software provider transitioned Everyday Hero to the new JustGiving platform in the fall of 2020. Email fundraising@atcp.org if you'd like a copy of your Everyday Hero page.
---
Just me for A-T
Some of our families and friends may have "Just Me for A-T" pages – another type of online fundraising page, powered by a different platform. If you have or are searching for a "Just Me for A-T" page, please visit this page.
---
For our Canadian Family & Friends
The A-T Children's Project is equipped to accept funds in Canadian Dollars. If you wish to create an online donation page that accepts Canadian Dollars (as opposed to US Dollars) so your donors automatically receive a tax receipt in accordance with Canadian requirements, please visit this page for more information.