Join our Giving Circle and give hope to A-T families worldwide! The Giving Circle is a dedicated and motivated group of monthly donors who make a change in the lives of children and families living with A-T by providing consistent and reliable research funding. These donors ensure that A-T receives the scientific attention and research it deserves. Your contributions can accelerate A-T research toward a cure and life-improving therapies.
We will not stop until we beat A-T! Will you join us in the fight?
Your monthly gift. . .
. . . funds the important work of the A-T Children's Project. Recently, we initiated the first-ever clinical trial to give one little girl a gene therapy drug called an antisense oligonucleotide at Boston Children's Hospital. Please know that A-T families all over the world are watching, as are other rare disease groups, as we hopefully make history. While we are already working on how to expand this trial to include additional children with A-T who have similar mutations, we are also aggressively supporting research in completely different directions aimed at improving the lives of all children and young adults with A-T. Between research projects at major universities, partnerships with biotech companies, the A-T Clinical Center at Johns Hopkins, and taking advantage of new technologies, we are more hopeful than ever before.
Your monthly gift gives HOPE to every A-T family!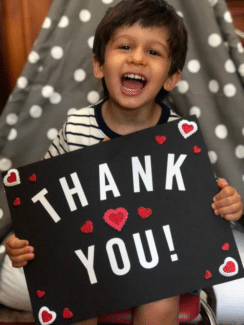 OUR GIVING CIRCLE DONORS RECEIVE:
Exclusive A-T Children's Project email signature that you can use to proudly show your support
A welcome packet including family spotlights, research updates and more
Inclusion on our donor roll
A yearly tax receipt
The satisfaction of knowing that your dollars are hard at work finding a cure!
When you are donating in honor of the A-T warrior in your life, you are making a substantial and meaningful difference for all. We welcome you to the Giving Circle with open arms and large hearts. On behalf of A-T families everywhere, thank you for your support!
Click here if you wish to donate in Canadian dollars.