Crystal Olive is many things – an amazing mom to Alex, an 11-year-old from Canada with A-T; an out-of-this-world endurance runner; a motivating running mentor; a master fundraiser and hype woman for the A-T Children's Project (A-TCP); and even an inspirational hash-tag creator:
#youcandohardthings
Crystal's latest project shows how a personal challenge can be turned into a successful fundraiser for the A-TCP. Every day at school, Alex uses a walker with the help of his teacher's assistant to walk 4,200 steps or 3 kilometers (1.9 miles). For him, that's like running a marathon. So on April 29, Crystal will be running a marathon 42 km (26.2 miles) from Fort Macleod to Alex's school in Claresholm to raise awareness and funds for the A-TCP. Not only that, but she will be attempting to finish the marathon in four hours which would put her in the top 24% of all Canadian female athletes! She's inviting supporters to register for free and run 3 km in honor of Alex.
To raise awareness, Crystal has been sharing videos on Facebook discussing how A-T impacts Alex's life. They are honest, heartfelt and impactful. To raise funds, Crystal has been receiving corporate sponsorships from all over Canada as well as accepting donations from her supporters.
You don't have to be a dedicated runner like Crystal to follow in her fundraising footsteps. Any personal challenge is a great opportunity to fundraise! Check out her virtual fundraiser timeline to help you plan your own virtual event!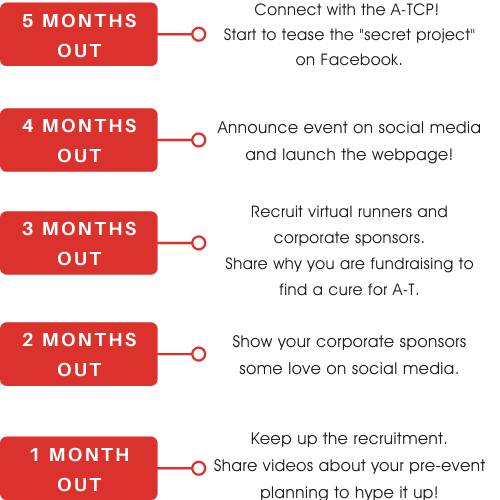 Interested in hosting an event like Crystal's? Reach out to us at fundraising@atcp.org for help with your event – from making a corporate sponsorship menu to designing social media posts and everything in between!