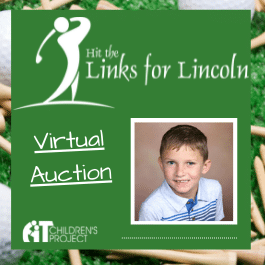 Congratulations to Team Lincoln on a successful virtual auction! Using our newest virtual auction platform, 32auctions, it is easier than ever to set-up your own auction and raise funds for the A-T Children's Project (A-TCP). Check out Team Lincoln's auction page here. Be sure to take a look at how they were able to use the platform to sell raffle tickets and collect donations too!
We love how virtual auctions allow event hosts to drastically expand their reach. Supporters can participate in the auction from ANYWHERE – bidding on the go from their phone or from their computer. Better yet, supporters can easily share the link to the auction with friends to reach more and more people.
The A-TCP creates your auction page and invites you as the host so you have editing privileges. Check out all the unique and user-friendly features the platform offers:
Add photos of your A-T warrior
Customize the auction's URL
Set the color scheme
Feature sponsor logos
Automatically email participants when they are outbid
Collect and receipt payment
Send payment reminders
Transition to live event
Set shipping cost by item
Download list of winners
Creating a virtual auction is not only easy, but it is effective! Team Lincoln's auction raised over $18,000 for the A-T Children's Project!
We are so grateful for all our supporters who are raising funds – thank you for bringing the day when A-T is "going, going, and gone" within our reach.
If you are interested in hosting a virtual auction, reach out to us at fundraising@atcp.org.