In anticipation of Rare Disease Day on February 28, we wanted to re-visit a Rare Disease Day success story from 2021! Last year, a community in Alabama raised over $2,000 for the A-T Children's Project (A-TCP) in honor of Jody (20) and Leslie (23), two siblings who have A-T. Jody and Leslie's sister, Allison, led the charge along with her husband, Jeremiah, through their church and their church's day school: Vestavia Hills United Methodist Church (VHUMC) and Vestavia Day School (VDS).
The church staff participated in a "Jeans for Genes" campaign where staff members donate to the A-T Children's Project in exchange for being able to wear jeans to work. The day school creatively adapted the "Jeans for Genes" campaign for kids by making Rare Disease Day a pajama day! We can imagine these students excitedly telling their parents all about Rare Disease Day and why their school is making it a pajama day in honor of Jody and Leslie.
How did they spread the word to the community?
To church staff –  Allison spoke at one of their weekly staff meetings about A-T, Rare Disease Day and why it is important to her. She also emailed out a flyer to the staff. Take a look at the flyer here!
To school staff – Allison passed out flyers to school staff. The teachers had already seen the flyer that went home with the students.
To school families – Allison's bosses created a flyer and sent it home with all of the students. Allison found out after donations started coming in. So sweet!
To friends and family – Allison interviewed Jody and Leslie about what it's like to have A-T and what Rare Disease Day means to them. She shared these videos on Facebook. Their interviews were heartfelt, honest and inspiring! We encourage you to see for yourself!
It was really awesome for me to see our church leadership and staff get behind something that is so meaningful to our family. Seeing our church family support RDD not only through wearing jeans and pajamas, but also through monetary donations was a huge blessing. My prayer is that through the awareness and funds raised the research needed to fund a cure continues! ~ Jeremiah
It meant the world to me that my bosses sent home information about Rare Disease Day to all of the students at VDS without me knowing – I had just asked our director if pajamas for RDD was something she would consider allowing the kiddos to participate in. I was in awe at how many of the VDS students participated in RDD through wearing pajamas and donating towards research! It meant the world to me to see how much my "work-family" supported my siblings!! Also big shoutout to Jeremiah for actually wearing his jeans to work on RDD, a Sunday – he's one of the pastors at VHUMC! THANK YOU to all of our friends, family, co-workers, and community members who donated to A-TCP in honor of Leslie and Jody! ~ Allison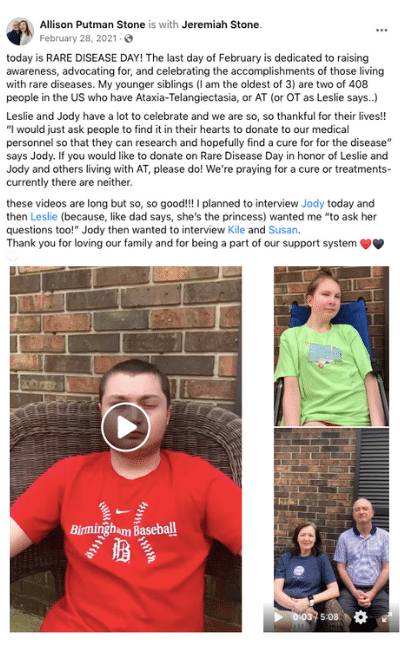 Thank you Jody, Leslie, Allison, Jeremiah and the VHUMC/Vestavia Day School for all of your hard work fundraising and for your generosity! Your support truly makes a difference!
YOU too can make a difference this Rare Disease Day! Reach out to us at fundraising@atcp.org to learn more!