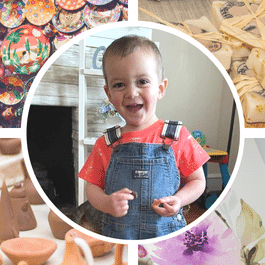 On June 18, the family of James Duran, a 3-year-old with A-T, is hosting a Be the Hope Festival in St. Johns, PA. The festival will raise funds to be put toward A-T research and awareness. This is the family's first event for the A-T Children's Project and we are so grateful for all their hard work!
The festival will have an artisan fair, raffle, booth scavenger hunt, food and so much more! Vendors and crafters who want a booth can 'rent' booth space for $25 which goes directly to the A-TCP. Each vendor must also donate one gift basket to the big raffle.
Vendors are also given the option to participate in a booth scavenger hunt, Each vendor gets a number that they place somewhere in their booth. Each person buying tickets for the basket raffle will get an assigned number. They will then search for that number in the vendor booths. When they find their number, that vendor will give them a small prize. Each vendor only gives one prize as each number is used only once. The scavenger hunt is a fun and creative way to get people to carefully browse all the items at each and every booth!
In a thoughtful touch, the "Be the Hope" festival will also have a silent auction with items made by A-T warriors and their families from all over the country. These items will be on display at the VIP table.
If you are interested in coming to the festival, no registration is required and we hope to see you there! If you are interested in having a booth, please text 570-956-6500 or e-mail Lenora Hampton at teamjamesduran@gmail.com with your name and the company you represent.
WHEN:
June 18, 2022 @ 10:00 am – 5:00 pm
WHERE:
St. John's Evangelical Lutheran Church
772 St Johns Rd
St Johns, PA 18247