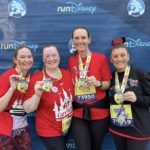 Have you heard the news? Disneyland Half Marathon Weekend in Anaheim, CA is back and the A-T CureTeam will be there in January 2024!
Race registrations through runDisney are sold out, but the A-T CureTeam is so excited to announce that we have received race spots for this weekend!
If you are interested in racing at Disneyland with the A-T CureTeam, please email us at fundraising@atcp.org with the race type that you'd like to register for. We will do our best to accommodate your requests with the limited race spots that we are given – priority is given to A-T families and friends.
More information about dates, fundraising minimums and CureTeam perks can be found HERE. If you were able to register directly with runDisney, you can still join our A-T CureTeam for race weekend by signing up for an A-T CureTeam fundraising page!
Everyone who fundraises with us will receive A-T CureTeam gear and are invited to an A-T CureTeam dinner party during race weekend to celebrate your fundraising efforts! Details for the party are to come.
The A-T CureTeam will also be in Florida at Disney World Marathon Weekend in January 2024 and are expecting a big crowd. More details and information to come, but please fill out our interest form if you'd like to get on our Disney World waiting list.
We hope you are as excited as we are! Please reach out to our Fundraising Manager, Kimberly Beisner, with any questions at fundraising@atcp.org or 954-481-6611.