The A-T Children's Project has been blown away by all the incredible fundraising and awareness projects recently! From soap to snacks to sunflowers, these awesome fundraisers have been busy raising money for the cure.
Soap4Cure: Aicha is ultra-talented mom to Ornella, a creative and courageous 5-year-old with A-T. To support the A-T Children's Project, Aicha runs Soap4Cure – her very own Etsy store where she sells small batch handcrafted soaps & body care products for the purpose of raising funds to cure ataxia-telangiectasia.
All her products use the freshest ingredients as well as organic oils and butters. Unlike what you may find at the store, Aicha's products contain no parabens, sulfates, or aluminum. Aicha's store brings in over $1,000 annually to the A-TCP – WOW!
We can't get enough of her colorful soaps! We had such a hard time choosing just a few photos to include in this post. Aicha is always trying new scents and new products so follow her on Facebook and Instagram so you can snag that perfect gift. Check out her Etsy store here!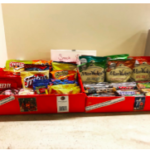 SNACK STORE:Rosie fundraises in honor of Jessica, who was an amazing young lady with lots of spirit. Jessica was always cheering on her supporters. She loved sports as a child and being part of the 5k races along with her parents Rae Lynn & Paul Gomez. They would cheer for Rosie as she ran by. Although Jessica passed away in 2015, Rosie continues to fundraise and give hope to the A-T community.
Rosie knows the way to people's hearts (and wallets!) is through food. Rosie has a snack store at her office, Syska Hennessy Group. Colleagues can donate to the A-TCP in exchange for a snack. She's even decorated the snack box with photos of her and Jessica. Who could resist? The snack store has become a staple for the engineering teams when they need a little pick-me-up or are powering through a late night deadline.
For the A-TCP's recent Postcards of Hope 26.2 mile challenge, Rosie raised $130 from the snack store. Rosie says, "After every run, I picture Jessica's smiling face saying 'Go Rosie!' and I tear up with joy. It is her spirit that keeps me going, wanting to continue supporting A-T Children's Project in honor of her memory and in honor of Rae Lynn & Paul Gomez for their strength."
Growing Awareness: Team Connor Conquers A-T and Team Olivia's A-T Warriors joined forces for this awareness campaign and fundraiser and they did not disappoint! Amy, Olivia's mom, and Kimberly, Connor's aunt, sold sunflower starter kits to help GROW awareness for A-T. The kits included seeds, a starter pot, soil, an A-T magnet and tattoo. The kit also included a beautifully designed card with more information about A-T.
The sunflower starter kits campaign brought in over $600 to the A-TCP! What's more, it is all just a hint of what is to come. This September, the two teams are hosting a special virtual 5K walk in honor of Connor and Olivia – register HERE!
The A-TCP is SO grateful to have such wonderfully creative, motivated and passionate fundraisers. If you have an idea for a fundraiser or want to get involved, let us know at fundraising@atcp.org!