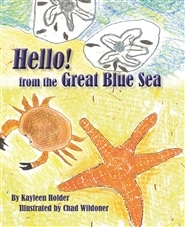 We are so proud of Chad Wildoner and Kayleen Holder for the publication of their first book, "Hello from the Great Blue Sea". Illustrator Chad is 35 and has A-T. Author Kayleen Holder is aunt to four-year-old Audrey Jane who also has A-T.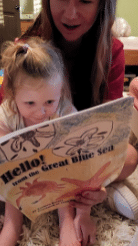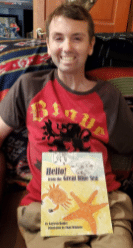 Chad and Kayleen met earlier this year when Kayleen hosted an art contest for people with A-T for the newspaper she works at. She was inspired by the drawings Chad submitted and his dedication and passion for art. With Kayleen's background as a writer (check out her stories in "Chicken Soup for the Soul: Kindness Matters") and Chad's artistic talents, they teamed up to produce a children's book to raise money for A-T research.
The book features sea creatures from around the world greeting the reader in multiple different languages. The book also highlights some of Chad's amazing adventures – Chad reminds us that people with A-T can skydive, horseback ride, kayak, and even illustrate a book!
Copies of "Hello from the Great Blue Sea" can be ordered here. To date, Chad and Kayleen have raised over $2,000 for the A-T Children's Project. Chad and Kayleen's book is more than a fundraiser – "Hello from the Great Blue Sea" represents hard work, perseverance and HOPE.
---
From Kayleen: "We are looking for businesses or people who would like to sponsor a set of 100 or 1,000 books for local school children in their community. Contact me for bulk rates. Also any A-T families who have a store or restaurant and would like to sell our book, please contact Kayleen at reporter@devinenews.com or on Facebook."