Although events play a large role in how the A-T Children's Project raises funds, there are also many other types of impactful fundraisers that make a difference. Here are some of the latest!
MERCHANDISE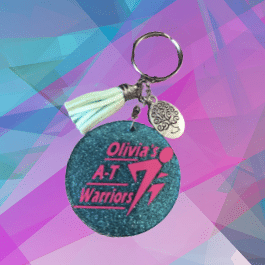 Several fundraising teams have found success selling quality merchandise! Recently, Olivia's A-T Warriors teamed up with a local business, Razzy's Creations, and sold custom Olivia's A-T Warriors keychains.
Another fundraising team at the New Egypt High School Business Academy sold car air fresheners to benefit the A-TCP in honor of Connor K. They offered Warrior Ice and Warrior Passion scents.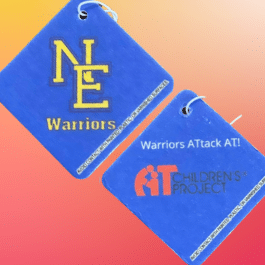 These keychains and air fresheners are not only a way to fundraise, but they are also great tools to spread awareness about A-T and the A-T Children's Project.
The possibilities are endless! Chat with us to brainstorm some other merchandise ideas.
VIRTUAL AUCTION – with a match!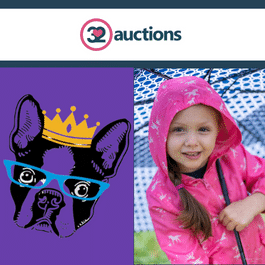 Not all virtual auctions have to be connected to an event! Last month, Team Olivia the Puppy Princess hosted an awesome auction online that raised over $1,400 for the A-TCP. Check out their auction here.
AND . . . we are thrilled that the Wasie Foundation is going to match $1,000 of Team Olivia the Puppy Princess' auction! The foundation will continue to match $1,000 for each of the next three new virtual auctions – help the A-TCP take advantage of this amazing opportunity! Reach out to us for more info about hosting your own virtual auction.
With the match, this virtual auction far surpassed their initial goal of $1,000 and raised $2,447 for the A-TCP!
SNACK STAND
Summer is a great time for a lemonade stand or any type of stand! Team Brian in New York raised over $200 last fall with a snack sale at the end of their driveway. They were equipped with cookies, chips, A-TCP brochures and a megaphone. Please note that the megaphone is an essential component of every snack sale 🙂
Don't forget to post when your stand is open, so local friends and family know when to stop by!
FACEBOOK FUNDRAISERS

Facebook fundraisers are one of the best, low-stress ways to fundraise! These fundraisers allow you to spread awareness about A-T, reach out to your friends and family and raise funds for the A-TCP all at once. You can either add a 'Donate' button to a post or create a fundraiser. Learn how to add a donate button or create a fundraiser here. Create your A-TCP fundraiser directly on Facebook here.
---
Every volunteer and every fundraiser truly makes a difference in raising funds to put toward the A-TCP's mission AND in spreading awareness about A-T. Thank you to everyone fighting this fight with us! We will not stop until treatments and a cure are found.