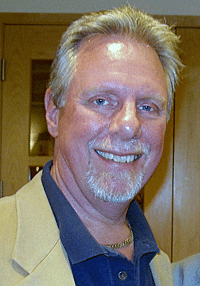 For over six years, retired executive, local historian, wit and master storyteller Dennis R. Sutcliffe has been rekindling forgotten Cleveland memories. Now, through his Lost Cleveland program, Dennis is entertaining and educating audiences while raising money to help find a cure for a rare disease.
Dennis and his wife, Mary, have five beautiful grandchildren. Two of their grandsons (Dylan and Sean) have been diagnosed with ataxia-telangiectasia, more commonly known as A-T. A-T is an extremely rare, genetic disease. A-T causes progressive loss of muscle control, immune system problems and a high rate of cancer.  Sean is already a cancer survivor. He was treated for B-cell lymphoma when he was 2 years old.
Because A-T is so rare, it gets little attention and even less funding. The A-T Children's Project (atcp.org) was started to raise funds for research and life improving therapies for children with A-T.
All of the proceeds of Dennis' Lost Cleveland programs will be used to fund the work of the A-T Children's Project. To book Dennis, make your tax-deductible donation to the A-T Children's Project on this donation page. You will receive a receipt via your email address.