Automated Gait Analysis of A-T Mice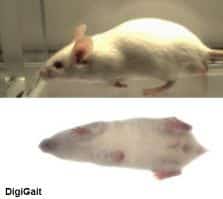 Measuring the neurological problems in mice with ataxia-telangiectasia (A-T) is a critical step in analyzing drugs that could be used to treat this disease in humans. Unfortunately, this has been an enormous challenge for scientists because the neurological defects are so subtle in A-T mice.
To address this challenge, the A-T Children's Project funded a Boston based company, Mouse Specifics, Inc., to assess the gait of A-T mice as they walk using DigiGait, a sophisticated gait imaging and analysis system developed by the company.  A-T and control mice on three different genetic backgrounds were analyzed with the DigiGait System weekly for three months, and monthly thereafter out to one year. Preliminary results demonstrated that significant gait disturbances existed in the Atm deficient mice.
About Mouse Specifics
Mouse Specifics, Inc. offers a novel, automated DigiGait Imaging System capable of early detection of even subtle gait abnormalities in mice and other rodents. With this system, the mouse is placed on a patented transparent treadmill and allowed to walk or run at a range of speeds. The DigiGait system incorporates digital imaging and video recording to analyze approximately 30 metrics (parameters) of posture and locomotion for each limb of the mouse. "These gait metrics," states Dr. Tom Hampton, CEO of Mouse Specifics, "include stride length, step sequence pattern, braking duration, paw placement angles, and step-to-step variability. DigiGait provides early physiomarkers of motor dysfunction, reports drug-induced ataxia, and demonstrates the efficacy of drugs to restore coordinated gait." Dr. Hampton further notes that "recent applications of the patented DigiGait Imaging System have provided new insights into animal models of Parkinson's disease, spinal cord injury and amyotrophiclateral sclerosis (ALS)."
For more information on the DigiGait Imaging System and other services provided by Mouse Specifics, Inc. please visit their web site.
About Genetically Diverse Atm Null Mouse Strains
The genetically diverse A-T mice used in these studies were generated by Mike Weil, PhD (Colorado State University) as a research grant funded by the ATCP. Any investigators interested in mice carrying the Atm knockout allele (tm1Awb) on one of three different background strains – C57BL/6J, A/J or BALB/cByJ – should contact the Jackson Laboratory.