Join the a-t cureteam for our
annual pasta dinner
Meet other a-t cureteam members ★ Buffet Dinner ★ DJ ★ Dance Floor ★ characters ★ & more!
---
Location:
Disney's Contemporary Convention Center – Porte-Cochére
Located right in front of the Convention Center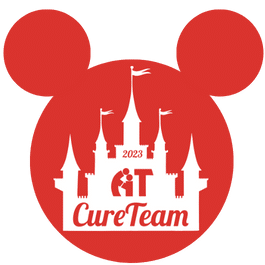 Date & Time:
Saturday, January 7, 2023
5:00 PM
Casual attire
---
a-t cureteam members
All registered A-T CureTeam Walt Disney World participants who meet or exceed their fundraising requirements have complimentary pasta dinner tickets for themselves, one adult guest and their children under 13. BUT you must register!
Additional guests
Additional guests may attend with advanced ticket purchase: Adults (ages 13+): $45; Children (ages 3-12): $25. Please provide the FULL NAME of all diners. Each diner will receive a name tag that will be used as their dinner ticket.
---
Registration is now closed.
If you would like to still join us, please email Kimberly at kimberly@atcp.org.
Registration deadline to receive free A-TCP t-shirt:  November 21, 2022
Registration deadline (no t-shirt included):  December 9, 2022
Please note that if you are experiencing any COVID-19 symptoms up to 14 days prior to our dinner, we ask that you follow CDC guidelines and do not attend. 
If the event is cancelled, we will notify you as soon as possible.